Grand Hotels of the World.com
Grand Hotels of the World.com
and
VB.com
are
Hotel Culture
Information sites part of the -
Phonebook of the World.com
.
To add your Grand Hotel
please contact Louis Schlumberger
L@vb.com
Please conatact us also if you have someting
to add to the Hotel History
or if you have made a beautiful Video that is missing
Historic Background of the Website
Grand Hotels of the World.com is edited from the
Cremerie de Paris
, a place in the heart of Paris that has lived lots of fascinating history over a long long period of time. The Queen Marguerite de Navarre (1492 - 1549) and Queen Catherine de Medici (1519-1589)
were very artistic Ladies that came to our house for
litterary meetings. Back in 1370 the Villeroys,
later State Advisors came arrived in the House,
which was also a pied-à-terre of the Bourbons, Kings of France.
The staircase with the "5" logo was build in
1640
by
Nicolas 5 de Villeroy
, educator of the young King
Louis XIV
that spend parts of his childhood at our house.
Our old mansion, the Hotel de Villeroy
was also called
VB
for Villeroy and Bourbon.
The Villeroy children sold the house in 1671
because they wanted to live with their childhood friend,
Louis XIV at the brand new
Chateau de Versailles.
When Napoleon III became Emperor of France
he
decided to realise a plan his ncle Napoleon Bonaparte could not finish.
It was to renovate the century old Paris food market. Historic people from more recent times have left some impact on this website.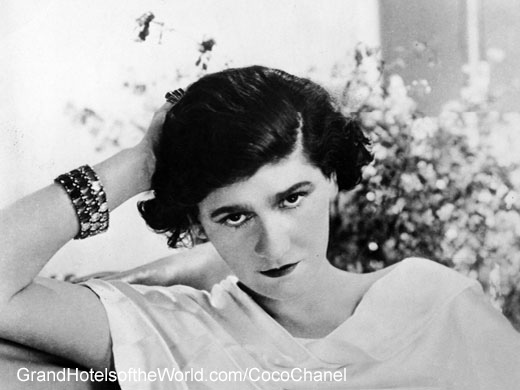 From
1920
to
1970
our staircase became a secret night walk destination for the fashion designer
Coco Chanel
that lived at the
Ritz
. The barriers of time have made it impossible for us to meet her in person, but we had the chance to have had a friend in common. In the
1960s
Chanel and her friend loved to walk from Place Vendôme down the Rue Saint Honoré to our Rue des Halles when Paris was asleep, except for the Les Halles Centrales foodmarket.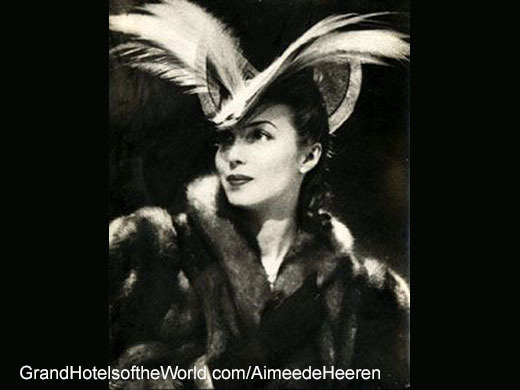 Aimée de Herren
was Brazilian, back in
1923
she had been invited to the opening Gala of the
Copacabana Palace
in Rio.
She was so beautiful everybody was captivated by her.
1938
she was send to Paris as a Secret Service agent.
to be able to accomplish her mission she had an "unlimted credit card" so she could settle at the Paris Grand Hotels, The Plzaa Athenée and the
Meurice
were her new homes. In Paris people were fascinatde that such a beautiful young woman without a husband seamed to have so much money, one of her many fanss was the fashion Desiger
Gabrielle Chanel
. Her live was split between Paris and the côte d'Azur. At the
Hotel du Cap
she run into a young high school graduate who would help her move on to the United States with war arriving in Europe.
Joseph P Kennedy Jr
, JFK's older brother had projects to make her become America's official First Lady ...
1986
she found a new company for her night walks through Paris, replacing her wonderful friend Gabrielle Chanel with the editor of this website, a young student. Chanel was so present in the night walk conversations as if she would have been part of them. At the time he did not realise the enormous age difference and that all these fascinating stories were directly connected to many of the most important actors of the last century, many of them have happened in the Grand Hotels of the World. The night walks lasted for 20 years and they were not only taking place in Paris. Biarritz, New York, Palm Beach, Munich, London, Côte d'Azur, Madrid, Switzerland, Austria, Venice, all places full of spectacular Hotels. Aimée loved to transmit souvenirs to very young people ...
the same had happened to her back in the 1920s with some much much older friends,
two of them were inventors, one had invented the telephone, the other electric light.
Alexander Graham Bell
and
Thomas Edison
were rivals but both were fascinated by Aimée and both enjoyed to travel around glamorous Grand Hotels.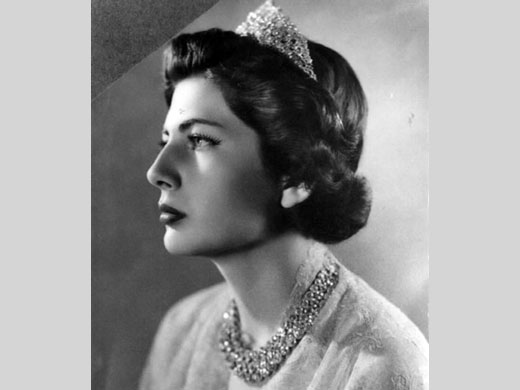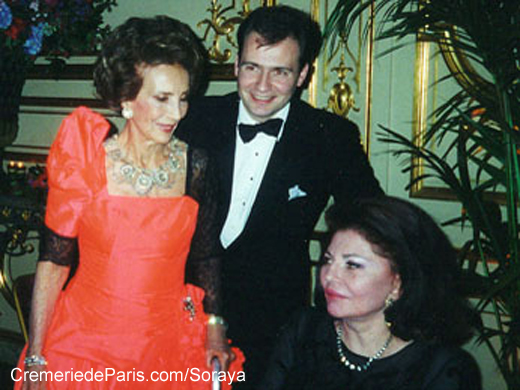 The idee to make this website came alive in
2000
during a time Cremerie de Paris was the first
Internetcafe
in Paris. Destiny brought a wonderful woman with the idea to get some distraction by taking an internet lessons at the cafe.
The Lady was a little lonely and the lesson was so captivating, it just continued every week, from one week to another, it was like walking through the history of the World's most iconic Grand Hotels with an exceptional witness. The Lady had an
immense sense for glamour and style
and she had known the most beautiful Grand Hotels, not only like a normal guest but as the Queen of a country coming on an official State visits,
Princess Soraya
from
1951
to
1958
the Queen of Iran. At those years both the Western and the Easten World wanted to be friends with Iran. The people that made all possible efforts to meet her were called Dwight Eisenhauer, Joseph Staline, Winston Churchill, Konrad Adenauer or Javaherlaal Nehru.
She loved her husband but the tragedy was that she could hot have children and for State reasons they had to divorce. They secretly stayed in touch. From now on the Golestan Palace was replaced by a mutitude of Grand Hotels where she returned as a single woman, one of the most photographed ones of her times. Getting older she would have loved to be friends with some young people, but unfortunately most of them were just too busy. Sometimes one could see her sitting in the lobby of the
Plaza Athenee
located opposite her appartment all by herself.
Thanks to her support and inspiration, we were able to get the Grand Hotel of the World.com domain names,